After moving with her family to Bushwick from the East Village, long time pet owner Mojgan Haak continually found herself having no choice but to endure the hour round trip to Petco in Union Square to purchase pet food. In August 2012, after four years of long journeys for her pet's necessities, Haak had had enough of the commutes and opened Bushy Tails Pet Food and Supplies located on 8 Porter Ave in The Shops at the Loom, a small shopping mall resting on the border between Bushwick and East Williamsburg.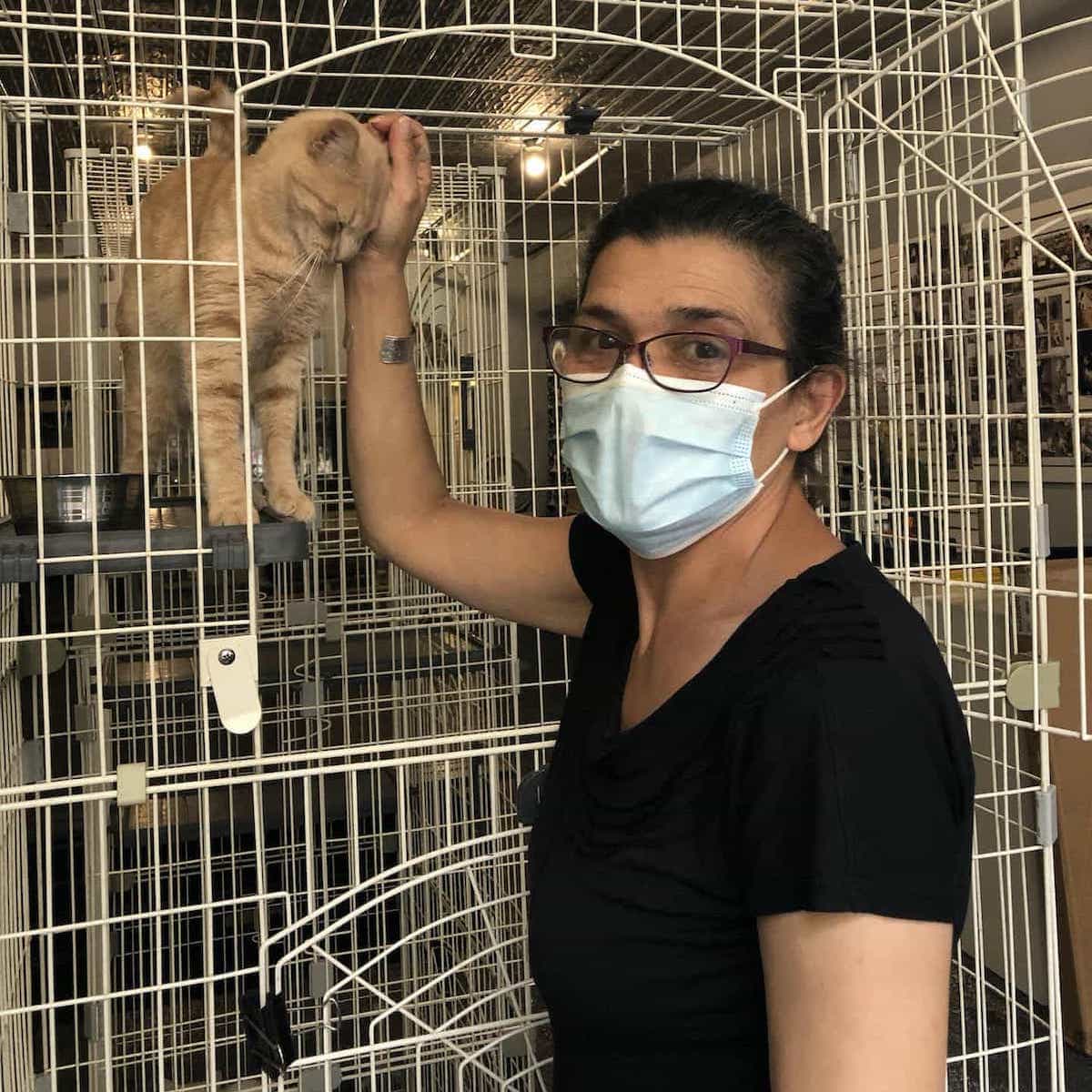 Mojgan Haak with a furry friend
At the time of its opening, Bushy Tails was the only pet supply store in Haak's community. It didn't take very long for others to recognize the untapped market that Haak had, and other pet stores began to appear throughout the neighborhood turning Haak's original idea into an arms race. She followed suit by opening a second store in 2015 not too far from the original. The store was short-lived as chain stores were able to pay higher rents for bigger spaces, therefore carrying more product than Haak's tiny second storefront. In 2017, Haak had to close the second store and redevote her attention to her original.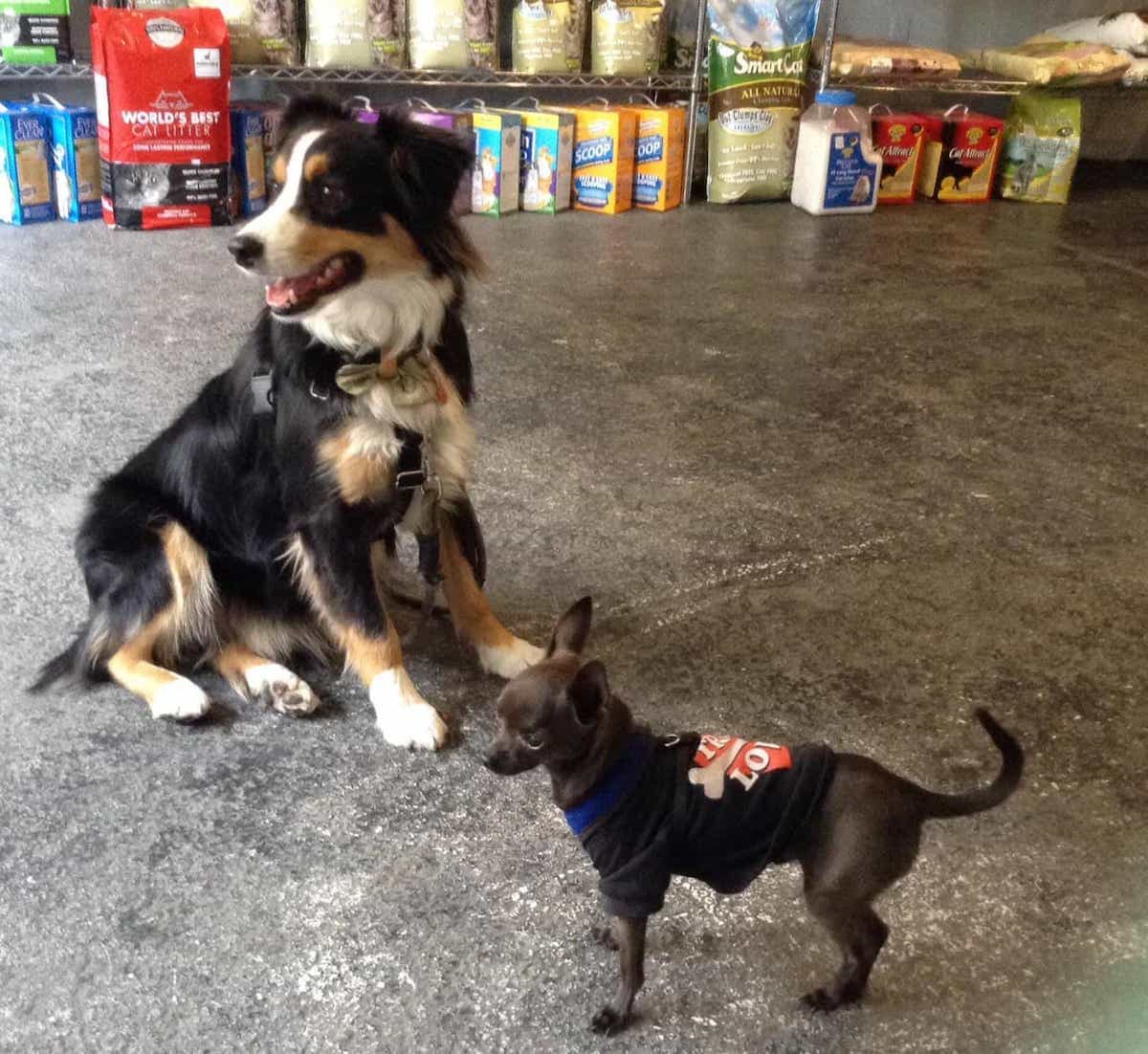 Buddy, the Chihuahua and friend.
Bushy Tails has grown into a place that is no longer simply for pet food, but somewhere you can go to satisfy all your pet related needs. Eighth years later as Haak has watched shops come and go in the Loom she has been creative about how to grow her stores income. The introduction of cat adoptions, cat sitting services, and dog training has brought much more to her store. In 2019, The Bushwick Veterinary Clinic opened right next to Haak, making the Loom the perfect place for your pets. The first step that Haak took to expanding her business was cat adoption. What started as weekend cat adoption events has now turned into Haak fostering all different kinds of cats in her store. She has worked with countless different non profit organizations in her years of hosting these events as well as her fostering. Currently she is working with Brooklyn Animal Action and Puppy Kitty NYC. She offers cat sitting services for a reasonable fee, and hosted dog training classes three times a week pre-pandemic.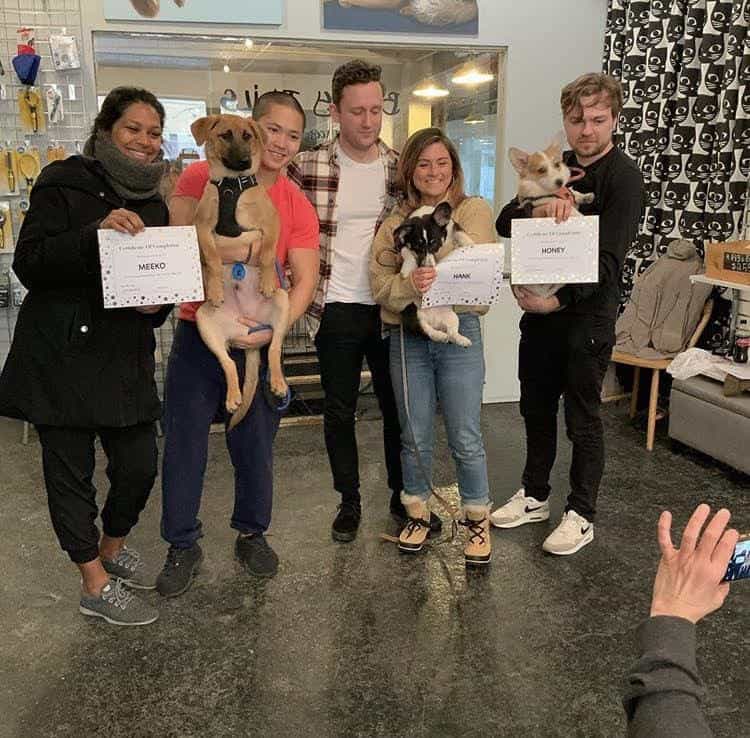 Graduates of a dog training class
Haak explains that COVID-19 has created a tremendous set back for her business. The dog training classes provided by Wag The Dog were a crucial source of income. These classes were abruptly ended due to the lockdown and without an outdoor space they are still unable to start back up. For four months cats were not being fostered in the store as well, eliminating another source of income. In addition, travel restrictions robbed a need for cat sitting services. Everything that Haak had added to her business for its benefit had to be put on hold. The most detrimental impact, says Haak, is sales being cut by 50%. Although a pet food store is an essential business, foot traffic in Bushy Tails decreased dramatically. The reason for this is simple, online shopping. More and more people have found it convenient to purchase Pet Food from giant online corporations, a problem that has always been present, but intensified as a result of the pandemic.
Despite being considered an essential business and NYC's somewhat smooth progression back to normality, Haak claims that the end of the lockdown did not do much to revive her shop. With dog training classes canceled indefinitely, a considerably low number of travelers in need of cat sitting, and old loyal customers moving from the city, Haak has been unable to land strongly on her feet again.
Thankfully, cats have begun to be fostered in the store for the past month, increasing foot traffic as well as slightly impacting sales. In the month that it has been back, it has been better than ever. Haak explained how she finds that right now there is a much greater need for companionship. She even jokingly brought up how her own daughter has been showing far too much attention to their cats at home after being stuck in the house for so long.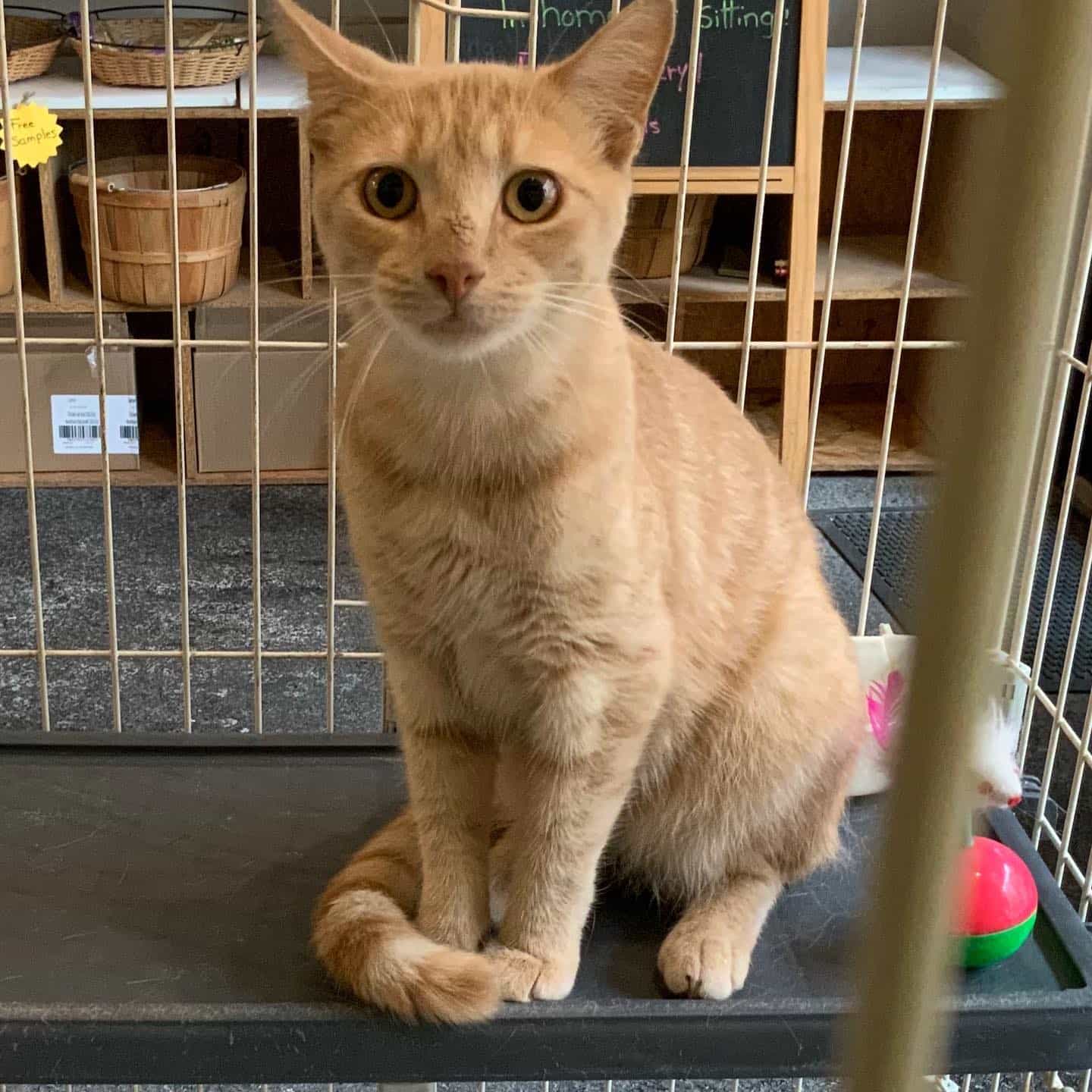 Cats available for adoption
Haak explained to me that there has never been more of an important time to be shopping from small local businesses than right now. While it is much easier for large corporations to land on their feet, the effects of the pandemic will continue to impact small businesses, and the best way to show your support is to ditch the Amazon orders and visit these businesses. Bushy Tails has always been the heart of this community no matter how many other pet stores followed the lead. When it opened Bushwick was still in it's early stages of development, and Haak has witnessed it flourish right outside of her store's window. Any visit to Bushy Tails will entail petting of foster cats. You will always have a warm greeting from the beautiful and nonchalant store cat and one of two mascots, Macy, who was adopted from an event held at Haak's store, as well as the other mascot Buddy, a teacup chihuahua that always has something to say. Macy resides in the store, whereas Buddy belongs to Haak and travels with her to the store nearly everyday. The time is now that we must work together to support local businesses like these that have seen the ups and downs of an up and coming neighborhood.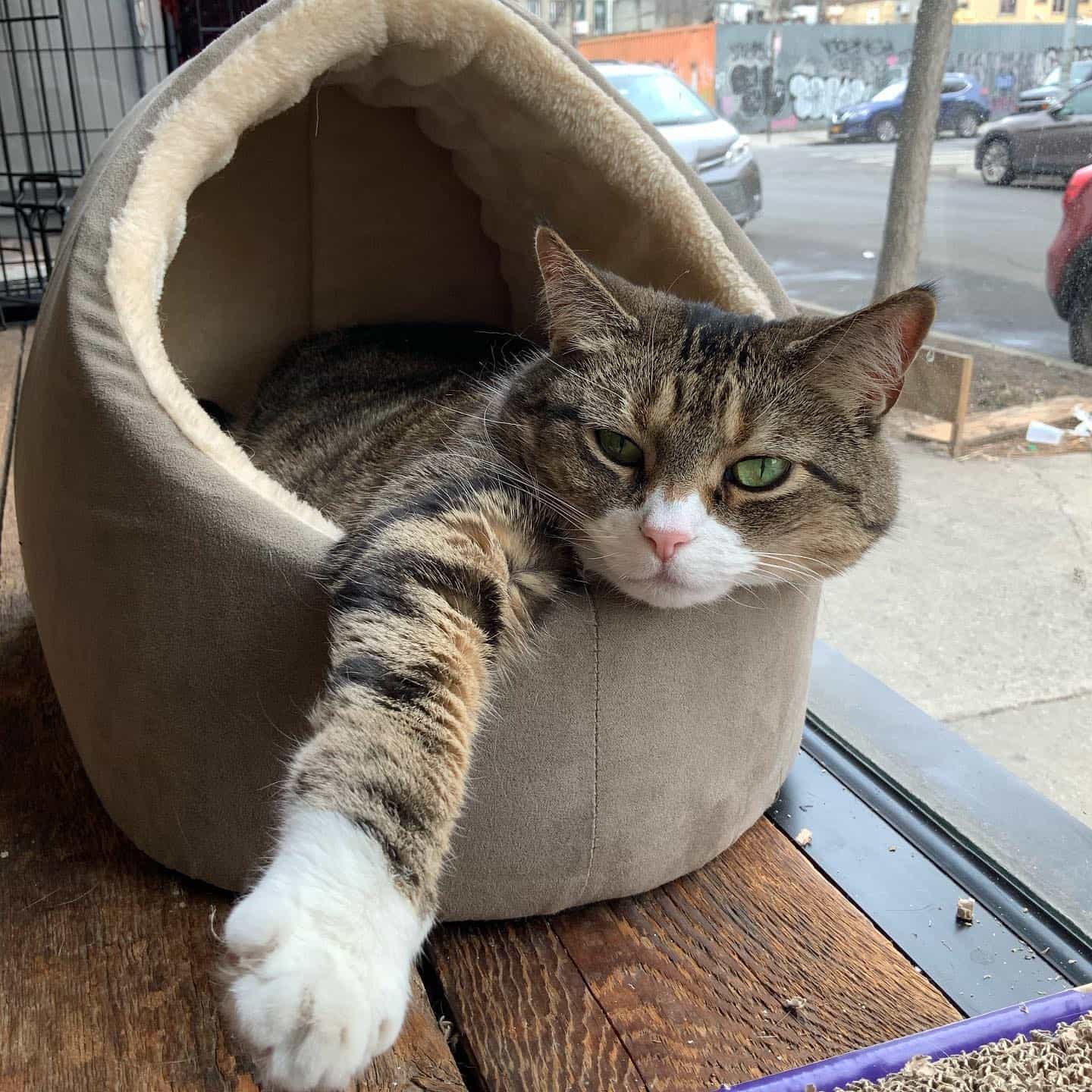 Macy, the store cat and mascot tests out a bed.